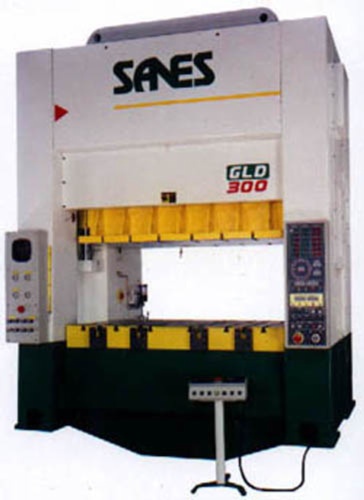 ×
Innovative, revolutionary, extraordinary product in the press industry. New mark of the press industry! High capacity, high precision manufacturing appliance.
●GLD High precision, straight side link press, with its uniquely super quality, fully extends the press operation to its extents. For instance, processes with compound works, heavy load and high precision, are the requirements cannot be achieved by the capacities of ordinary presses, but GLD series fully realize them!
●Straight side structure sufficiently, curtails structure deformation, and is the perfect frame structure for the press operation.
●Although industrial community has achieved the formidable level over the standards presently, but sometimes the press works still cannot meet these requirements.
●GLD series is the right model freshly eveloped to meet requirements.

Super rigidity frame structure, with patented unique link motion mechanism
GLD series is the revolutionary. Standard overtaking press for new era.
Common link presses emphasize using slow speed operation to achieve better
punching and stamping results, but they usually cannot fully exploit the nominal
productivity. The speed reduction around the bottom dead center takes up the
slide return time slot, narrows the feeder response time, thus impedes the overall
operation efficiency.
The unique GLD motion curve resolve the problem completely!
High Rigidity, High Precision Drive Unit the drive unite
equips with high rigidity and high torsion eccentric
drum.
Thrust load from eccentric motion is absorbed by the
plunger guide.
GLD link press overcomes the brake slippage angle
encountered by most press operations, vastly raise the
safety factor of press operation and be able to meet
the most stingent safety standard of intermittent
operation required by synchronized robot arm
operation.