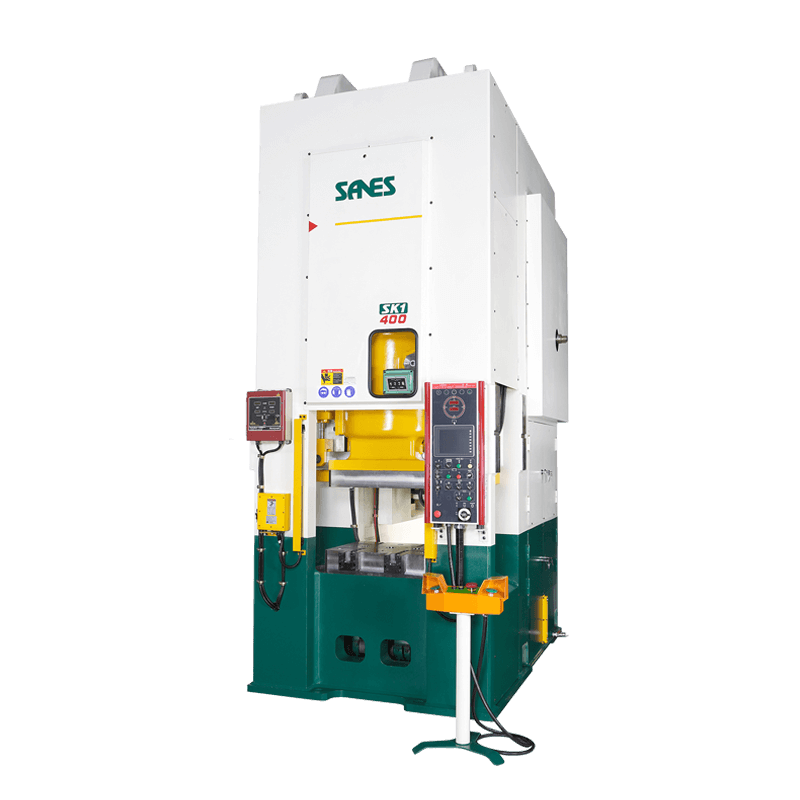 Precision Knuckle Joint Cold Forging Presses
SK1 Series
SK1 Series Presses- a high performance cold forging press. In order to achieve such high precision, Sanes has increased the rigidity of the firame to prevent slide inclination. SKI series has versatility system such as auto coil feeding progressive system, slug feeding and transfer system can be incorporated into the system to suit the individual factory's demands.
Feature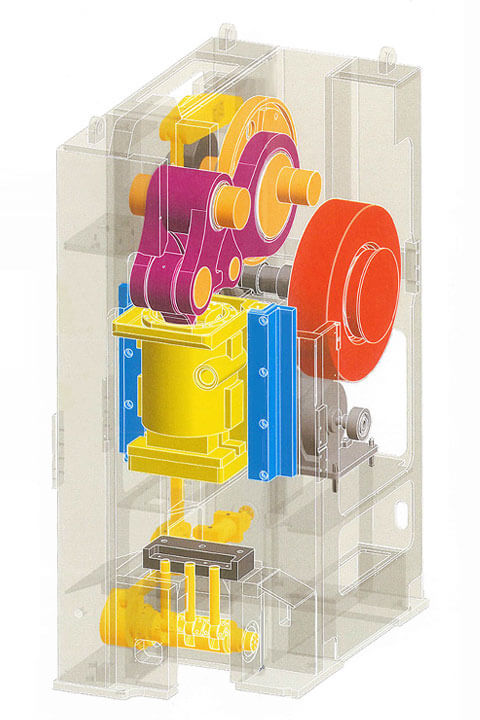 One-Piece High Rigidity Frame ensures Products Precision
Load transmission section uses high rigidity frame can minimized frame deflection, not only in greatly increased high precised production, but also prolonged die service life.
Heavy Duty Knuckle Action Motion
SK1 Series completed with a heavy-duty knuckle motion, provide a slow touch speed in the work range ensure a smooth flexible flow resulting in stable, high precision presswork.
High Responsive Overload Protector (H.O.L.P.) Protects Any Unusual Overload Issue
When any unusual die overload happens, high responsive H.O.L.P system will instantaneously activate. Then the drive transmission is disconnected and the slide will stop immediately. Only simply returning the slide to top dead center position (TDC), resetting operation will be achieved automatically.
Based on high precision manufacturing technology and super quaiity main gear, overall clearance is 1/3 than conventional presses
High precision torque transmission parts and min. break-through can prolong die life and achieved better precision of completed parts.
Steady Wet Type Clutch and Brake System completed Safety Operation
Completed enclosed wet type clutch and brake units can be isolated not only prevent any dust but also can reduce noise from operation.
Special Design Long Slide Guides can Keep High Precision Manufacturing over Long Operation Period
Special design six-sided square long slide guides can completed high endurance during eccentric loading condition. This also can improve die precision and prolong die life.
Easy Installation Based on Floor Mount Design
Completed stored in lower part of the bolster bed knockout system can let press installed on factories floor directly, no need any pit.
[Optional] Three-Stations Bolster Knockouts System Make Continuous Operation To Be Possible
It will be easy for continuous operation if select 3-stages bed knockouts system.
Continuous operation can eliminate inter stage annealing and phosphatic operation, that means can help to save operation cost.
SPECIFICATIONS
Model
Unit
SK1-400
SK1-630
SK1-1000
Capacity
Ton
400
630
1000
Tonnage Rating Point (Above B.D.C)
mm
7
7
10
Stroke Length
mm
180
220
250
Stroke Per Minute
S.P.M
30-50
25-45
25-40
Die Height
mm
450
535
650
Slide Adjustment
mm
50
50
50
Slide Area
mm
700x500
800x600
1000x900
Bolster Area
mm
700x700
800x800
1000x900
Main Motor
HPxP
40HP(INV)
60HP(INV)
100HP(INV)
Air Pressure Required
kg/cm2
5
5
5
Upper K/O / Type:Air pressure
Ton
2.4
3
5
mm
50
50
50
Lower K/O / Type:Mechanical
Ton
20
32
50
mm
75
85
110
-Due to continuous research and development, the machine design and specifications are subject to change without prior notice.
-Custom specifications are available upon request.
Need Inquire ?
If you need more information or quotation about this product, Our sales representative will reply as soon as possible